Savings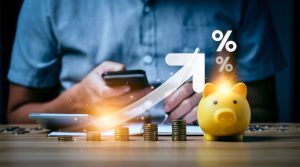 KeySavings Bank offers a savings account to meet your needs. To obtain more information, or open an account, just stop by one of our convenient locations.
Kids Club Savings Account Application Form*
Christmas Club Application Form*
Savings Account Application Form*
Name of Selection
Type of Account
Interest Earning
Minimum Balance to earn APY/open
Interest Rate/ APY
DISCLOSURE
At our discretion, KeySavings Bank may change interest rates on all interest earnings accounts. Fees may reduce the earnings on all interest earning accounts.
KeyKids
Savings
Yes
$0/$25.00
.05/.05
Christmas Club
Savings
Yes
$0/$25.00
.10/.10
Regular
Savings
Yes
$0/$50.00
.05/.05
What is a Savings Account?
A savings account is an interest-bearing deposit account held at KeySavings bank. Though these accounts typically pay a modest interest rate, their safety and reliability make them a great option for parking cash you want available for short-term needs.
Savings accounts have some limitations on how often you can withdraw funds, but generally offer exceptional flexibility that's ideal for building an emergency fund, saving for a short-term goal like buying a car or going on vacation, or simply sweeping surplus cash you don't need in your checking account so it can earn more interest.
KEYSAVINGS TAKEAWAYS
Because savings accounts pay interest while keeping your funds easily accessible, they're a good option for emergency or short-term cash.
In exchange for the ease and liquidity that savings accounts offer, you'll earn a lower rate than that paid by more restrictive savings instruments and investments.
The amount you can withdraw from a savings account is generally unlimited.
The interest you earn on a savings account is considered taxable income.
Please contact us to open a savings account.