We Offer FDIC Insurance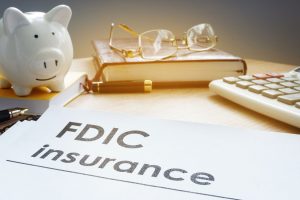 Deposit insurance is one of the significant benefits of having an account at an FDIC-insured bank like KeySavings Bank—it's how the FDIC protects your money in the unlikely event of a bank failure. The standard insurance amount is $250,000 per depositor, per insured bank, for each account ownership category. And you don't have to purchase deposit insurance. If you open a deposit account at KeySavings Bank, we pay for the insurance coverage and you are automatically covered.
If you are looking for ways to deposit more than $250,000 and want it to be insured, please contact us to learn more.
The FDIC covers
Checking accounts
Negotiable Order of Withdrawal (NOW) accounts
Savings accounts
Money Market Deposit Accounts (MMDAs)
Time deposits such as certificates of deposit (CDs)
Cashier's checks, money orders, and other official items issued by a bank
The FDIC does not cover
Stock investments
Bond investments
Mutual funds
Crypto Assets
Life insurance policies
Annuities
Municipal securities
Safe deposit boxes or their contents
U.S. Treasury bills, bonds or notes*
*These investments are backed by the full faith and credit of the U.S. government.
FDIC Deposit Insurance Coverage Limits by Account Ownership Category
Single Accounts (Owned by One Person)
$250,000 per owner
Joint Accounts (Owned by Two or More Persons)
$250,000 per co-owner
Certain Retirement Accounts (Includes IRAs)
$250,000 per owner
Revocable Trust Accounts
$250,000 per owner per unique beneficiary
Corporation, Partnership and Unincorporated Association Accounts
$250,000 per corporation, partnership or unincorporated association
Irrevocable Trust Accounts
$250,000 for the noncontingent interest of each unique beneficiary
Employee Benefit Plan Accounts
$250,000 for the noncontingent interest of each plan participant
Government Accounts
$250,000 per official custodian (more coverage available subject to specific conditions)
Please go to FDIC website and watch their numerous videos for more information:
https://www.fdic.gov/resources/deposit-insurance/understanding-deposit-insurance/
Printable FDIC Insurance information:
https://www.fdic.gov/resources/deposit-insurance/brochures/documents/deposit-insurance-at-a-glance-lp-english.pdf