Checking Accounts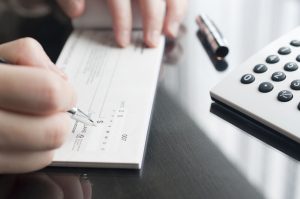 There are many benefits of a checking account, from easy access to your cash to direct deposit of your paycheck. Like with anything, there are checking account pros and cons, but let's start with the advantages.
KeySavings Bank offers a deposit product to meet your needs. To obtain more information, or open an account, just stop by one of our convenient locations. Switch your Accounts to KeySavings Bank. It's quick and easy just stop in today!
Name of Selection
Type of Account
Interest Earning
Minimum Amount to earn APY/open
Interest Rate
Annual Percentage Yield (%) APY
DISCLOSURE
At our discretion, KeySavings Bank may change interest rates on all interest earnings accounts. Fees may reduce the earnings on all interest earning accounts.
Blue Ribbon
Checking
Yes
$100.00/$100.00
.03
.03
Spirit
Checking
No
No APY/$50.00
NA
NA
Advantages of checking accounts
If you're considering opening a bank account, there are lots of advantages to having a checking account.
Earn interest: Some checking accounts earn interest, which means your money can grow even when it's just sitting in the account.
FDIC insurance: If you've been keeping your money in jars or under your mattress, you may be interested in the security of a checking account. Most checking accounts have FDIC insurance and are covered up to the allowable limits.
Easy access: Checking accounts let you access your money in a number of ways. You can typically spend or withdraw money by visiting KeySavings Bank, using your debit card at an ATM, writing a check or making an online transfer.
Debit card: Most checking accounts come with a debit card, so instead of paying with cash, you can easily tap or insert your card into a card reader at checkout to pay directly with the money in your account. You can also pay online with your debit card by filling out the requested information, like your name and card number.
Direct deposit: You can set up direct deposit into your checking account right from your employer. No more risk of losing paper checks in the mail. Your paycheck can be deposited into your checking account automatically on payday, which might be faster than getting it via mail, too.
Track spending: With a checking account, there is a record of your deposits and spending, so you can see where your money is coming from and where it's going. Plus, sign up for KeySavings Bank online banking and you will have the ability to you lock out your debit card if it's ever lost or stolen—helping to prevent unauthorized use.
Different types of checking accounts
If you're tired of keeping track of cash, a checking account might be the right choice for you. Check out these different types of checking accounts.
Traditional checking accounts: A traditional checking account, interest bearing and non-interest bearing, typically offers checks, a debit card and ATM access. There may or may not be fees, so be sure to check.
Joint checking accounts: Joint checking accounts have more than one account holder who can access the cash. This can be a good solution for married couples or college students and their parents. Another thing to keep in mind: Adding a joint account holder could increase the amount of FDIC insurance for the account.
Business checking accounts: If you run a business, this could be the checking account for you. Business checking accounts make it easier for you to keep your personal money separate from your business finances.
Moving your money into a bank account is a lot to think about. Consider these checking account advantages and disadvantages, as well as the features you're looking for in a new bank account. If you're interested in easy access to your everyday cash, a checking account might be the way to go.